Gourmet Boxes
Gourmet Boxes
Evening Boxes
Lorem Ipsum is simply dummy text of the printing and typesetting industry. Lorem Ipsum has been the industry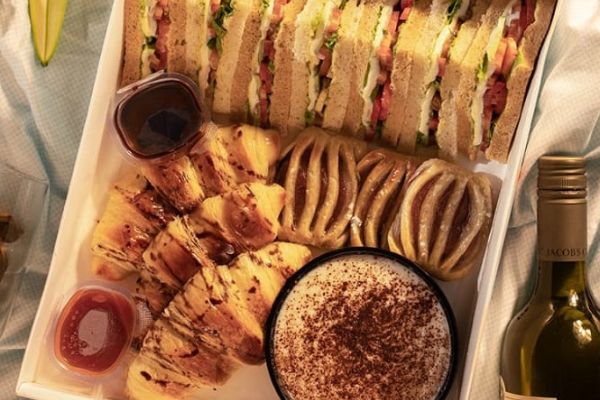 Rs 1099
Coffee Break Box
Cheese Veg Sandwiches, Croissants, Strawberry Danish and Tiramisu
Rs 949
Club Evenings (V)
Choose Min 1 and Max 2 - 1) The Junglee Sandwich 2) Cottage Cheese Mediterranean Sandwich 3) Twinn Veggie Burger 4) Cottage Cheese Pita Naan Wrap
Rs 999
Club Evenings (NV)
Choose Min 1 and Max 2 - 1) Club Chicken Sandwich 2) Magic Chicken Pita Naan Wrap 3) Texas Chicken Burgers
Rs 949
Dips, Crisps & Falafel
Duo of Hummus - Basil & Chilli Chickpea served with falafel, Pita & Tortilla Crisps.
Gourmet Boxes
Dimdums & Starters
Special Boxes for Family & Groups
Rs 899
The Kebab Box (V)
Choose Any 3 Starters 1) Paneer Pakhtooni Tikka. 2) Cheese Burst Soya Chaap. 3) Sikampuri Kebab with Bakarkhani Crisps. 4) Stuffed Mushroom with Cheese.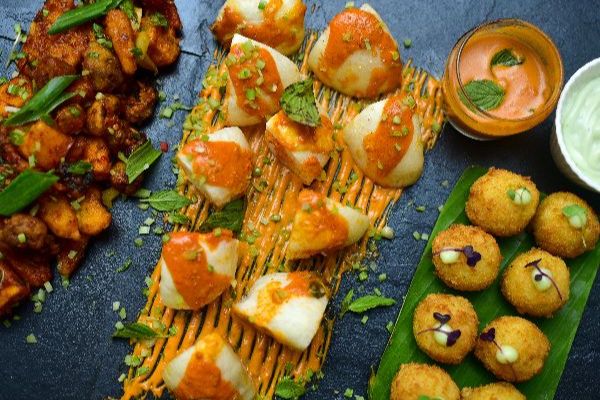 Rs 949
The Orient Box (V)
Choose Any 3 Starters 1) Japanese Vegetable Croquettes. 2) Curried Baos. 3) Trio of Mushroom Baby Corn & Tofu. 4) Black Spiced Manchurian with Mandarin Pancakes
Rs 999
The Dimsum Box (V)
Choose Any 2 Dimsum 1) Mushroom Crystal Dumpling. 2) Broccoli & Almond. 3) Spicy Veg Dimsums in Chilli Oil
Rs 999
The Kebab Box (NV)
Choose Any 3 Starters 1) Butterfly Chicken Tikka 2) Banno Kebab 3) Mutton Galawat 4) Lucknow Spl Nukti Kebab (Chicken) with Bakarkhani Crisps 5) Gochujang Chicken Chooza 6) Reshmi Khus Kebab
Rs 999
The Orient Box (NV)
Choose Any 3 Starters 1) Sticky Thai Chicken Wings. 2) Hoi - Sin Chicken Mandarin Pancakes. 3) Cantonese Fish with Drunken Prawns 4) Chengdu Lamb Bao
Rs 1099
The Dimsum Box (NV)
Choose Any 2 Dimsums 1) Spicy Chicken Dimsum in Chilli Oil 2) Chicken Chestnut in Cheung Fun Sauce 3) Chicken Suimai 4) Prawn Hargao - Thai Curry / Burnt Chilli
Rs 1199
The Seafood Box
1) Amritsari Fish Tikka. 2) Cantonese Fish with Drunken Prawns 3) Tai Chi Prawns